Welcome back to our monthly volunteer profile! This month we're featuring one of our fantastic foster families. Our foster families are so important to Angel's Wish. They provide a loving, enriching home for our cats and kittens while the cats are waiting for their forever homes. Read on to learn more about Brigitta and Janine Spethson and their foster home.
The old saying, "opposites attract" may come to mind the first time you meet Brigitta and Janine Spethson in person. Brigitta is tall, talkative, a bit more feminine, while Janine is shorter, more taciturn, and usually dresses for comfort and utility. Brigitta would also describe herself as stubborn and non-judgmental while Janine chooses the words "curious" and "confused." However, this recently-married couple has more than enough to bond over, and one of those things is their love of cats.
Both grew up in the Midwest–Brigitta in Green Bay, WI with her mother, older brother, and "a whole bunch of cats, dogs, and fish. We had one to three dogs and two to five cats at any given time, so most of my life centered around our family pets," Brigitta explained.
Janine comes from Detroit, MI where she grew up with two parents, two siblings, and a goldfish for a few years. The two women met in Houghton, MI where they attended Michigan Tech. Brigitta graduated with a bachelor's degree and master's degree in biomedical engineering. Janine graduated with a bachelor's degree in materials science and engineering (We've got two super smart ladies here!). Janine then decided to pursue a PhD in the same field, which is how they ended up in Madison, WI.
They share their apartment with three resident cats: Shadow, a hangry, grumpy gray male cat who is two years old with the energy of a three month old and who loves sitting in boxes and watching humans; Matches, a male brown tabby with white socks who is a sweet and gentle foster dad with frequent hairballs due to cleaning kittens; and Deli (short for Deli-cat-e), a female orange tabby and spoiled princess with high standards who loves sleeping on laps only if there's a soft blanket present. Though these three keep them busy, Brigitta and Janine knew they wanted to add more feline fun to their family. In 2019, they decided to make it happen after some sad circumstances.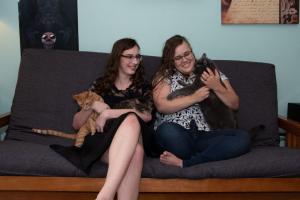 "We started fostering in 2019 a couple months after our cat Bugsy passed away," Janine said. Brigitta added, "We knew Bugsy wouldn't do well with new cats around, but after he passed we realized we could now foster. It was the main silver lining that really helped us get through his passing." They checked out a few organizations in the area, and landed on Angel's Wish because, "we really liked how much Angel's Wish vetted their adopters. We thought it would help with giving up the fosters if we knew they were going to good homes."
Over the past year, 21 cats stopped off at Brigitta and Janine's foster home on their way to their forever homes. Brigitta mused, "It doesn't feel like our lives were much different last year yet we were able to help so many cats." Since they both love having cats around and learning, fostering is an ideal situation for them to learn about a subject they really enjoy.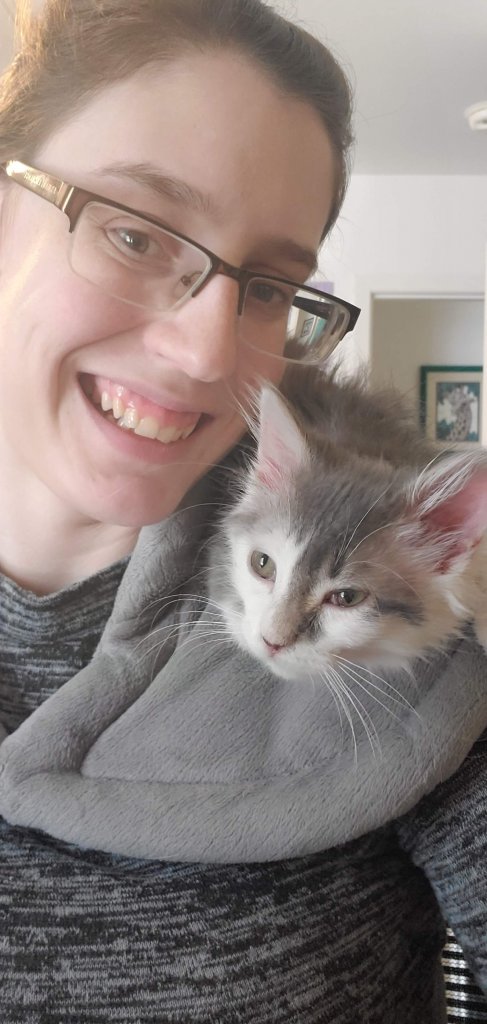 There are also those stand-out moments they always remember. Janine told us about one breakthrough moment with a former foster:
"We had a very shy foster named Rosie, and she liked to hide. One day, we woke to the sound of Rosie mewing from behind the water heater, as her new hiding spot didn't have an escape route. We got her out by giving her a blanket to climb. That was the first time Rosie willingly came into contact with me," Janine remembered. Of course, they closed off that area so it couldn't happen again. "She did dust pretty well though," Janine recalled with a laugh.
Fostering isn't all kitten snuggles, playtime, and precious moments, though: "I'm in charge of cleaning [the litter boxes] and kittens are not tidy. They're adorable as hell but they keep stepping in poo and walking over my keyboard," Janine said. She also added that she's extremely allergic to cats (Don't worry–she has an arsenal of treatments to help her combat them.). Brigitta added, "It's having to keep our apartment always kitten-proof. Our [resident] cats are well trained not to go places we don't want them to and only use their litter box, etc. With each new set of kittens you have to restart the training." She also says she doesn't do well with the "spicy" cats and is thankful that Janine is great with them.
Sending the foster cats and kittens off to their forever homes can also be a struggle. "There is a point with every foster where I try to at least joking convince Janine that we should keep them," Brigitta said. She continued: "Giving them up isn't as hard as you might think. Before I started fostering I was really worried I wouldn't be able to give them up. Of course you miss them but when you see how happy the family that is getting them is, it really helps." The "goodbye" videos on TikTok that Brigitta has started making (@brigittarose) and the celebratory adoption day photos don't hurt either.
Brigitta and Janine remember each foster feline that comes through their homes with an image on the door to their foster room dedicated to each one. "There are two standouts," they said. "And those are the fosters whose forever homes became our home–our foster fail (a cat that starts out as a foster and then is adopted by the foster family), Deli, and our Mister Waffles, who passed recently from FIP."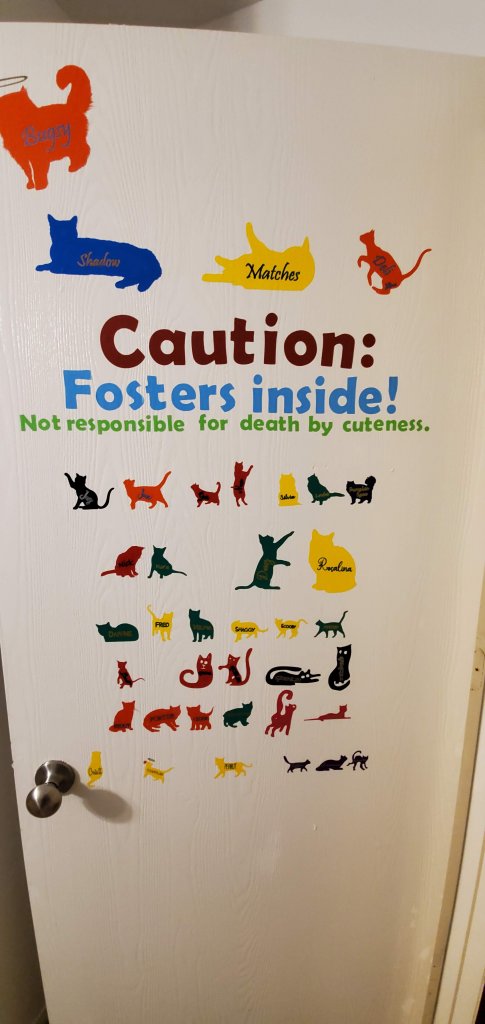 Though she's "way too obsessed with cats", Brigitta takes some time away from fostering and works at Natus Medical in Middleton as a Complaint Specialist. Janine "keeps asking what things are made out of at the most inconvenient times" because she works as a research assistant and student in materials research, which she has been doing since her first year of college. Together, they like to work on puzzles, restore furniture, build things unnecessarily, and rearrange rooms at random times of the day and night. Brigitta also loves painting nails and Janine also enjoys 3-D printing "which is different from work because at home I use plastic and at work I use metal," she explained with a smile.
Both Brigitta and Janine know that they will be fostering for as long as possible and encourage others to consider it as an option. Janine explained that fostering is more flexible than most people think. "Organizations like Angel's Wish are…there to work with people and help as much as they can," Janine said. They like that Angel's Wish focuses on the cat first, finding them good forever homes with loving families. Angel's Wish is lucky to have a great foster family like Brigitta and Janine to give cats and kittens the great starts and loving care they deserve while they wait for their families to find them.