We need a variety of items to care for our animals to help prepare them for adoption, and of course, monetary gifts are always greatly appreciated!  Items in bold are our greatest needs. You can purchase and ship directly to us from Amazon or purchase and ship directly from Chewy or drop off items at any of our adoption events or contact us to make alternative arrangements. Items can also be left in our Verona Adoption Center's shared vestibule with Edward Jones Monday through Friday between 9am and 4pm, as volunteers check daily for deliveries and donations. Thank you!
---
Shopping and shipping from our Chewy wishlist is a snap
You can easily buy and ship donations to Angel's Wish from our Chewy wishlist! Click below to be taken to the items we need most.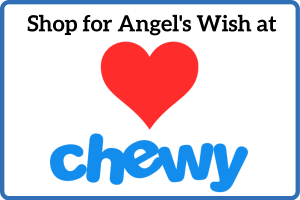 Easy click-donate-ship directly via Amazon
You can easily buy and ship wishlist items directly to Angel's Wish from Amazon.com here. We also have a special list just for our building needs!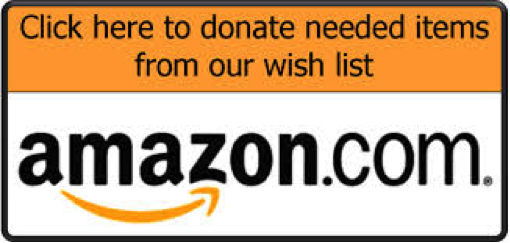 ---
Urgently Needed
Monetary donations to pay medical bills for the nearly 200 cats and kittens in our care
Kitty litter
KMR (kitten milk replacer)
Canned cat and kitten food-especially pate style (ProPlan and Royal Canin Instinctive greatly preferred)
Dry cat and kitten food (ProPlan and Royal Canin preferred)
Cat toys – especially laser light toys and wand toys for adopters to interact with our adoptable kitties
Other Donations Accepted
Cat beds
Revolution Topical Solution (for heartworm and fleas)
Catnip
Feliway spray
Feliway diffuser refills
Pet carriers (medium)
Midwest Ferret or Critter Nation condos
Snuggle safe heating pads
Pet medications and supplies
Paper towels
Dawn soap
Toilet paper
Ziploc bags (sandwich, quart and gallon sizes)
Garbage bags (35 gallon)
AA and 9 volt batteries
Household rubber gloves
Disposable latex gloves
Toilet bowl cleaner
Heavy duty spray bottles
Bleach
White copy paper
Color copy paper
Stamps
Avery 5160 labels
Brother HL-2140 printer cartridges
Snack size candy bars
Individually wrapped candies
Soda and bottled water
Gas station gift cards for animal transports
Used inkjet cartridges (we recycle for cash)