Our volunteer foster homes get to know their fostered animals well and understand their personalities—allowing us to make great matches between people and pets! Let us know about your family situation, current pets, and the type of pet you are looking for and we can guide you to animals that would be a great match. Please read through the adoption process below carefully and thank you in advance for your patience as we face volunteer shortages emerging from the COVID-19 pandemic. 
Adoption Process
BROWSE. Browse our adoptable animals online. You are also welcome to visit our adoption events. Applicants with approved applications will get priority to visit animals in rooms at our Verona Adoption Center. If we are very busy or experiencing volunteer staffing issues, we may not be able to allow people without applications to visit cats. Unapproved applicants cannot ask to take cats staying in condos into visiting rooms, but are able to visit cats already in visiting rooms 1-8. 
APPLY. Complete an online adoption application. If you are interested in a specific cat/kitten, include it on your application. Otherwise, you can choose to submit an application as "undecided." Selecting a specific animal does not obligate you to adopt if approved, but helps us route your application to the proper adoption coordinator more quickly. Please fill out all questions completely to avoid delays in your application review.
APP REVIEW. Our volunteers will generally be able to review your application within one to three business days. You will receive a call/email if we have any questions or to let you know you are approved. If you don't hear from us, please check your spam folder. 
ADOPTION. Once approved, visit with our cats at our adoption events at our Verona Adoption Center or Petsmart East Madison. Many cats can be met by appointment because we are so over-capacity right now; this is noted in each individual cat's bio. Approved applicants should be ready to adopt same-day if the animal is ready to go home. 
Apply for adoption
Complete online cat adoption application here (strongly preferred)
Please note, completing an adoption application does not obligate you to adopt, but please only apply if you are serious about adopting now, are committed to providing a forever home, and are willing to work within our adoption process. We do not hold cats more than a couple days so do not apply for a specific cat if your adoption timeline is a few weeks or more away. 
Problems complete the online form? Cat adoption application (downloadable form-Word document) | Cat adoption application (downloadable form-PDF document) | Mini Schnauzer application (downloadable form)
Cat and kitten adoption fees
Adopting a homeless pet is one of the best deals ever–even better than a "free kitten!" Why? Our adoption fees include: spay/neuter prior to adoption, testing for Feline Leukemia (FeLV) and Feline Immunodeficiency Virus (FIV), age-appropriate vaccinations, deworming, microchip for identification including registration, and flea/tick/earmite treatment as necessary. We recommend all adopted animals visit a vet within 14 days of adoption. 
Forget-Me-Nots
(listed
here
)
$50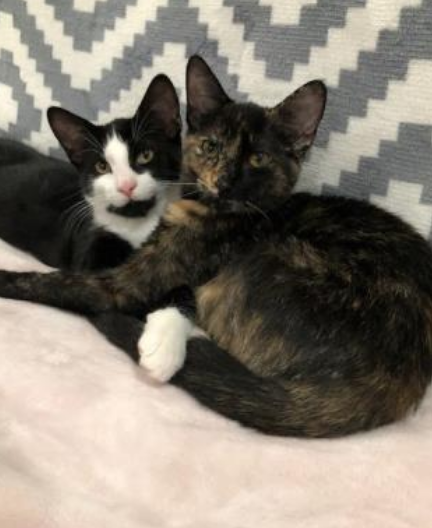 Kittens (up to six months): 
Single Kitten $150
Pair of Kittens $250
Juveniles (six months up to ten months):
Single Juvenile: $100
Pair of Juveniles: $150
Adults (ten months and over):
One Adult: $75
Two Adults: $100
Adult/Kitten Pair: $175
Kitten/Juvenile Pair: $200
Learn more about adopting a pair!