Our volunteer foster homes play a crucial role in our adoption process by getting to know our animals intimately and understanding their unique personalities. This deep understanding allows us to create perfect matches between our furry friends and potential adopters.
We're here to make your adoption experience as seamless and enjoyable as possible. To get started, all we need to know is a bit about your family situation, including any current pets you might have, and the kind of cat you're looking for on your application. 
By sharing this information with us, you'll receive personalized attention and guidance to help you find a cat that's a great fit for your family and lifestyle. You can also look forward to meeting a variety of cats at our adoption events, where we aim to keep your wait time to a minimum.
We're excited to assist you in your journey to find the perfect feline companion, and we're confident that with our help, you'll soon be sharing your life with a wonderful new friend. 
Adoption Process
BROWSE. You can check out our available animals online or visit our adoption events. At our Verona Adoption Center, if you haven't been approved, you can't take cats in condos to visit rooms, but you can see cats in visiting rooms 1-8. Sometimes, if we're really busy or have limited volunteer staff, we may not be able to allow people without applications to visit cats. 
APPLY. Complete an online adoption application. If you're interested in a specific cat or kitten, mention it in your application. If you're not sure, you can choose to submit an application as "undecided." Choosing a specific animal doesn't mean you have to adopt it; it just helps us process your application faster. Make sure to fill out all questions thoroughly to avoid delays.
APP REVIEW. Our volunteers will aim to review your application within one to three business days. We'll contact you if we have any questions or to let you know if you're approved. If you don't hear from us, please check your spam folder. Communications for undecided applications come from teamkamyaw@gmail.com
ADOPTION. Once you're approved, visit our cats at our adoption events at our Verona Adoption Center or Petsmart East Madison during our adoption event hours (no appointment needed!). Your application will be on file for four months. Some cats can be met by appointment, as mentioned in their individual bio. If you're approved, be ready to adopt the same day as your visit if the cat is ready to go home.




We're here to help you find your perfect feline friend, and we look forward to assisting you in the adoption process!
Apply for adoption
Please note, completing an adoption application does not obligate you to adopt, but please only apply if you are serious about adopting within the next four months, are committed to providing a forever home, and are willing to work within our adoption process. 
Problems completing the online form above? Cat adoption application (downloadable form-Word document) | Cat adoption application (downloadable form-PDF document) | Mini Schnauzer application (downloadable form)
Cat and kitten adoption fees
Adoption fees include spay/neuter, age-appropriate vaccinations, Feline Leukemia/FIV testing, parasite treatment, and a microchip! You'll also receive a few days worth of food, coupon(s), and a handmade blanket made by volunteers. 
Forget-Me-Nots
(listed
here
)
Single Forget-Me-Nots CURRENTLY WAIVED
Pair or Trio of Forget-Me-Nots CURRENTLY WAIVED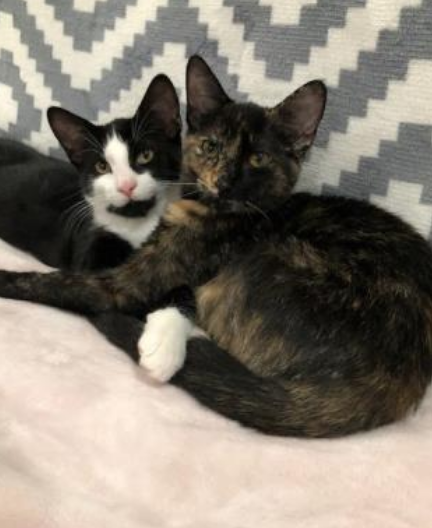 Kittens (up to six months): 
Single Kitten $150
Pair of Kittens $250
Juveniles (six months up to ten months):
Single Juvenile: $100
Pair of Juveniles: $150
Adults (ten months and over):
One Adult: $75
Two Adults: $100
Adult/Kitten Pair: $175
Kitten/Juvenile Pair: $200
Learn more about adopting a pair!