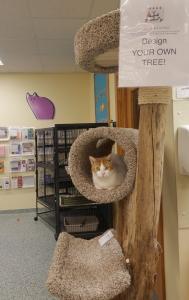 Cat trees are a great way to give your cat a place to climb, play, exhibit appropriate scratching behavior, and feel safe from a high perch. We've had a long-standing partnership with Paw Friendly Cat Furniture. We're excited to now be able to offer custom ordering for their cat trees! Come visit our Verona Adoption Center to view your various order options, and place your order through us. We receive a donation for every cat tree ordered at Angel's Wish.
Why order a Paw Friendly Cat Tree? They work very hard to bring you the top-quality trees that you and your kitties deserve. From the beautiful handpicked Elm trees, to the quality of the carpet, they spend the extra time ensuring your tree is constructed using only the best materials.
The sisal rope is 3/8″ thick and all natural. There are no chemicals or oil on their rope (which can be very harmful to your kitties since they lick their paws frequently). While most manufacturers use 1/4″ oil based sisal twine or rope, we believe that the 3/8″ is a better option because it's more durable. With the thicker all natural sisal rope, cats can scratch on it, and it lasts a long time! Cats love it!
Sisal rope vs. carpeted posts is very important…carpeted posts can teach your cat that scratching carpet is ok. Natural wood and sisal reinforce good scratching habits that your Angel's Wish alumni were taught in their foster homes.
Stop by our adoption center and come check out ordering a tree today!