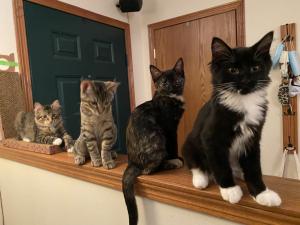 Here is a picture of the beautiful, loving litter of kitten that my family adopted from Angel's Wish.
They were born around April 6 so they are around 17 weeks old now.
The reason that we wanted to adopt this whole litter is that the siblings are very close to each other and we wanted them to continue to be together for life.  They lay down together. They play together. They feed off of each other's energy. They zoom around rambunctiously and wear each other out. Watching the kittens play with their ball toy or chasing a springy cat toy is more fun to watch than watching TV.
The kittens each have their own personality. We give them titles like sweetest, warmest, fluffiest, softest, mellowest, most adventurous, liveliest, most curious, most mischievous, most wildcat-like, most affectionate, purrs the most, and best hunter. Their "most likely to…" statuses get switched around from day to day.
This litter of kittens from Angel's Wish brings us warmth and companionship. We look forward to caring for our new family members for their whole life.
Thank you for bringing us these charming cats into our life!
Adopted: 7/20/20