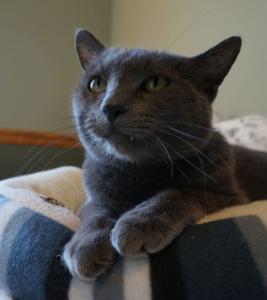 Donate to Amos' GoFundMe here
Meet Amos Purrton. He came to Angel's Wish on February 1, 2017 as a transfer from Fond du Lac Humane Society. When we have foster homes available, we reach out to area humane societies to help reduce their cat populations.
Upon his intake exam at Angel's Wish, our volunteers quickly discovered there was something very amiss with his ears. His ears were filled with cysts and he cried when we looked in his ears. We took him for evaluation by Fitchburg Veterinary Hospital , who confirmed Amos' ears were in trouble. His ears were so swollen, his ear canals couldn't be visualized. We treated him for two weeks with steroids and antibiotics, with no change. We took a culture of his ears to see if there was a significant bacterial infection causing problems, but it came back negative.
The next step would be surgery, so we sought a second opinion from Sandra Wedig, DVM, DABVP (feline specialist) at Prairie Veterinary Associates. She diagnosed him with hyperplastic ceruminous glands in his ears.  We continue to treat Amos with oral steroids,  but his discomfort continues. He has scratched most of the hair off the back of his head attempting to scratch his ears. He cries if you touch his ears.
On March 29, Amos will be evaluated by Edinger Surgical Solutions to evaluate surgical options to treat his ears.  His pre-anesthetic bloodwork (performed at Verona Veterinary Medical Services ) looks great.
Amos is an amazing boy.  He has been stoic with multiple car rides to the vets, exams poking in his ears, and daily medicine. Amos is a friend to all…people, other cats, even the big dogs in his foster home. He loves to cuddle with other cats, and specializes in licking their heads. Everyone who has met him remarks what a nice guy he is.
We know Amos could be in for a serious surgery that will be expensive, far more than Angel's Wish can cover out of our normal donations. We've already invested a lot in his care. We'll update our fundraising goal after our consult on Wednesday. If you can, please help by donating and sharing Amos' story.  Thank you for your support!