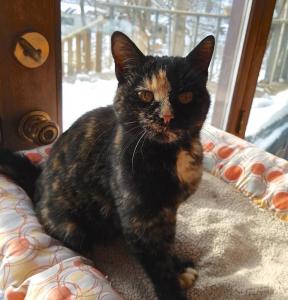 Angel's Wish has been hit with a double whammy from the weather this fall and winter. Fall was warm for so long that cats were getting pregnant and having kittens much later than usual. It seemed as though what we call "kitten season" lasted forever. Then suddenly it got very cold and lots of snow fell. We have had many calls from people seeking refuge for freezing cats and kittens.
This little cat, Torti, showed up at an Angel's Wish volunteer's house recently during one of these brutally cold nights. She was lucky because she could come in and be warm and fed. She is pregnant and her kittens will be available through Angel's Wish early this coming spring.
We can only take in cats and kittens that we have foster homes for. We have a long waiting list that only you could help us with – by fostering. We provide the food, litter, and medicine while you provide the socialization, get the kitties to the vet and to Angel's Wish adoption events on Saturdays and Sundays.