CONTENT WARNING: Cat hoarding situation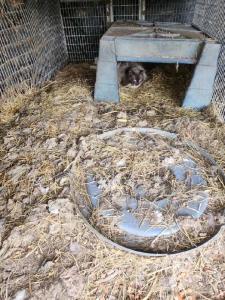 We had to help. Bissell Pet Foundation contacted us about a HORRIFIC hoarding case in Oklahoma. After being called in by the sheriff's department, rescue volunteers from Paws for a Cause went in and found over 100 cats living in unspeakable conditions. Most of the pictures are too shocking to share here, but we can tell you these cats suffered greatly, some for many years. Many were other people's unwanted pets that were taken in by the hoarder and have obviously known love and affection before.
Some cats were in the home, while others were in filthy cages in a barn or housed outside in makeshift cages under tarps. Over a dozen cats had to be euthanized immediately to ease their pain and suffering. The others have been receiving extensive TLC and vet care, and over 60 are now ready for a fresh start. With the severe pet overpopulation problem in Oklahoma, these cats need to move out of state for a chance at the loving homes they deserve. When Bissell Pet Foundation reached out, how could we say no to these sweet, innocent souls who have suffered?
We're proud to be joining three other Wisconsin organizations who said yes to helping without hesitation. Twenty-five of these precious cats arrived on May 10th at Angel's Wish. Some went to foster care, while many are waiting for adopters and fosters temporarily at our Adoption Center.
Some of these cats settled in very quickly. Others need a bit more time to unpack their trauma. They are all happy to be clean and keep their spaces very neat. They are so grateful for a second chance. Now, we just need to find adopters or fosters to open their homes to these sweet souls!
We'll need monetary donations for ongoing medical care, as well as item donations to help care for these sweet souls. We especially need adult Purina Pro Plan Chicken & Rice Formula and Royal Canin Indoor Adult dry food, Churu treats, scoopable cat litter, litter scoops, paper towels, and feliway diffuser refills.
Drop off items at 161 Horizon Drive in Verona. Put in vestibule between Edward Jones and our unit between 9 to 4:30pm, or drop off at our back doors (volunteers will be checking regularly).
Donate items from Chewy:
Thank you!