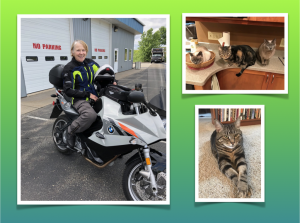 "We are Siamese if you please.
We are Siamese if you don't please.
We are from the residence of Siam.
There is no finer cat than I am."
The singing cats from Lady And The Tramp convinced me to become a cat person. Lithe, blue-eyed and naughty – all very attractive to me as an eleven-year-old. Now, to somehow find a Siamese cat and convince my parents.
Fatefully, as my brother and I were walking past a west side Madison neighbor's house, there he was: a Seal Point Siamese kitten clinging to the screen door howling for our attention. He was the last one left of the litter. We had to have him.
"Ten dollars for a cat!" exclaimed my father. But he loved us and he loved animals, and the kitten joined our home. Simon was a wonderful cat ambassador for us newbies. A unique guy who gave us years of joy and laughs. Over my life, he was followed by many other cats, all purebred Siamese, Burmese, and Tonkinese. All beautiful and amazing companions.
And then came Jethro. He's my first Angel's Wish fellow, and I couldn't be happier with him. A big classic black and tan tabby, he has super sleek dense fur patterned with stripes, spots, dots, swirls, chevrons, bars, bands, a butterfly shoulder saddle, and a cinnamon roll on each side. His agouti coat never ceases to amaze. The topper, of course, is that he's a friendly, lovable, funny guy who moved into our home with our Tonks Murray (11) and Ziva (5).
I don't remember how I learned about AW, but I went online and saw a pretty girl kitten and drove to the center to see her. Not knowing that all the cats aren't always at the center all the time, I was a little disappointed that she was not there that day. I decided to look around anyway and saw a cage full of cute gray kittens. Then I spotted Jethro (née Arizona) moving through the pack like an anaconda. The volunteer I talked to said if I wanted him, I should take him that day because he would probably be adopted quickly based on looks alone. So I took him into a playroom for a test drive. Yikes! I had to stop playing as he was crashing into furniture and walls in his obsession to catch that feathered flyer. Sold!
He moved into our home with little drama from adult Murray and fellow kitten Ziva. They continue to be quite a posse with fluid alliances and pairings that change with situations, foods, and moods. Always entertaining.
What a pleasure to find Angel's Wish. I remembered how welcoming and caring the atmosphere was when I first visited. It was easy to consider becoming a volunteer. My fellow volunteers have always been helpful and patient. I continue to be impressed with our efficient system to connect people to pussycats. Everyone plays their roles so well. The best part is seeing how pleased and excited folks are when they walk out with their new family members. Good outcomes for both species. It's a toss-up for me between the satisfaction of helping animals directly and the great feeling for me to contribute.
I would also like to give a huge Thank You to all of you who foster our cats. You are the foundation of AW. I'm proud to be a small part of this loving endeavor.
When I'm not at AW feeling all warm and fuzzy, I enjoy using my own power and gravity to paddle, pedal, ski, or whatever the current season affords. Birdwatching all year round gives joy too. My husband and I ride our motorcycles to cafes and coffee shops around southern Wisconsin. Ride, eat, ride, is our motto. I taught graphic design for 32 years at Madison College. Now retired, I live in Madison with husband, Alan, and cats Murray, Ziva, and Jethro.