In early spring, when COVID closures were just starting to dominate the news, we closed the doors to our Adoption Center in Verona for the safety of our volunteers, adopters, shoppers, and supporters. We also stopped adoption events at PetSmart on the east side of Madison.
As we all waited and wondered about what was to come next, we heard that some animal placement groups were trying contactless adoptions. At the beginning of April, we met as a Board to figure out if this would be a possibility for Angel's Wish. Kitten season was just around the corner–what would we do if we had all these kittens and cats and couldn't find foster homes for them, let alone forever homes?  Our work couldn't stop, and we were deemed an essential service in the statewide stay-at-home orders.
We did some research and found solutions for electronic paperwork and payment and devised protocols for the transfer for cats and paperwork contactlessly. Though we weren't able to have the Angel's Wish Center open or attend adoption fairs at PetSmart, we were excited to be able to continue finding homes for the cats and kittens in our care. We've had foster homes video conference with potential adopters, and kitten zooms are definitely a hit!
Our contactless adoption process continued successfully through the summer months. When studies were showing COVID-19 was not easily spread via surfaces, we started doing socially-distanced adoptions by appointment. We've had record-breaking numbers of adoptions each month as those who are staying home more are finding themselves wanting a feline companion (or two!) We have adopted 150 more cats this year than we had at this time last year. We count ourselves lucky that we've been able to not only continue on with our work but see some brightness in what has been one of our most difficult times as a state and nation. The joy our adopted cats bring to families during an emotionally stressful time keeps us motivated.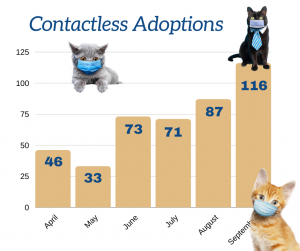 In August, as COVID numbers continued to climb and parents, teachers, and schools debated the value of in-person and virtual learning, the Board made the difficult decision to close our Verona Center for the remainder of the year for adoption events. Most volunteer shifts were canceled, and we miss seeing our volunteers. We will reevaluate in December of 2020 in hopes that we'll be able to celebrate 2021 with open doors and adoption events full of excited and eager cats.
While it's with heavy hearts that we continue to watch the positive number of COVID cases rise and our friends, family, neighbors, and community members struggle, we hold on to the fact that we've placed over 650 cats and kittens into loving homes during a time when many, many people needed a little extra love in their lives. We will continue to do so as well as adapt our processes and procedures in order to keep people safe and keep cats and kittens going home. We thank you for your continued support during this time and hope you and your loved ones are safe and healthy.