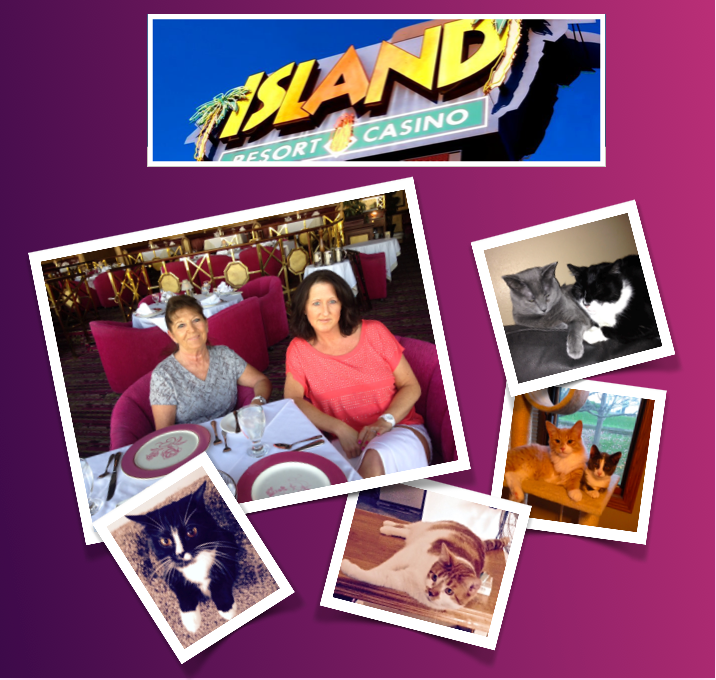 Candice Larabee and her mom, Kathy Leffingwell, know how to put the FUN in fundraising. It is called Candice and Kathy's Casino Getaway and Angel's Wish and another local pet rescue, Shelter From the Storm, have been the beneficiaries of their creativity and energy.
Candice and Kathy's Casino Getawa is a twice yearly bus trip to the Island Casino near Escanaba, Michigan. It all began eight years ago with casino trips to raise funds for a scholarship. After a couple of years the scholarship was discontinued, but it was so much fun they wanted to continue the trip and thought it would be "cool" to raise funds for charities close to their hearts. Since they loved animals and had adopted kitties from Angel's Wish, it was just natural that they include us in the project.
The trips occur in the spring and fall and about 40 to 50 people usually participate. The bus trip up and back are not the typical bus rides but filled with bingo, games, and a raffle. Candice and Kathy canvas local businesses looking for donations for the raffle. They are heartened by how generous community businesses are. They donate many gift cards for meals and drinks.
Candice and her mom charge about $10-$15 beyond the cost of the bus ride per person. For this charge each person gets one raffle ticket, one drink, and a sack lunch (made by Candice and Kathy). Halfway into the four hour ride they stop at the Oneida Casino in Green Bay for a gambling break of one hour. The bus leaves on a Saturday morning with an overnight stay at The Island, and returns on Sunday.
Candice and Kathy are usually able to donate between $500 and $900 from each trip, along with miscellaneous items such as pet food.
Keep watching our e-newsletters and Facebook and we will let you know if there are open seats for the spring trip.