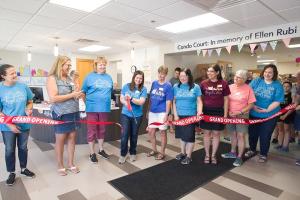 August 12 was a day of great pride and joy for all of us at Angel's Wish as we officially celebrated the grand opening of our newly renovated Pet Adoption and Resource Center at 161 Horizon Drive in Verona.
Our journey towards this moment has been one of dedication, teamwork, and passion for the well-being of animals in our community. It started all the way back founded in 2000 by a group of rescuers who wanted to come together to end the euthanasia of adoptable animals in our community. Some of those founders are here with us today. We've called Verona home almost since our beginning. Our adoption events started every other Saturday in the basement of a vet clinic here in Verona. Then, we rented a small building at 163 Paoli Street for a couple years. And in 2005, our donors helped us buy our first condo unit.
A couple years ago, we received an amazing legacy gift from Suzanne Hodgman. Around the same time, we were approached by our next-door neighbor about buying the adjoining three condos he owned. It seemed like fate. We used Suzanne's gift to purchase the condos and started the design process to thoughtfully consider what the extra space could mean for people and animals in our community. We reached out to our supporters to help us fund the construction, and the community helped us raise nearly $200,000. Thank you.
This would have been an ambitious project for anyone, but we did it as an-volunteer organization during COVID. Everything took longer than we thought it would and we faced supply chain challenges and contractors with staffing issues.  Once construction started, our volunteers adjusted almost weekly to make things work in the ever-changing space for months.
As the majority of construction came to a close, it was time to convert our construction loan to a mortgage. With the financing and construction process taking so long, interest rates had climbed dramatically since we first ran our financial scenarios. As we started to budget for 2024, things looked more challenging than we planned. And then, a call came. Someone wanted to talk to us about a gift from their friend. And at that meeting, we learned the amazing amount of that gift. Because of an amazing legacy gift from Ellen Rubi May, we only had one mortgage payment, and paid off the balance earlier this year.
The transformation of this center stands as a testament to the power of collective effort and the impact that a group of dedicated individuals can make. What was once a vision has now become a reality—a space that not only provides comfort and care to our cats awaiting their new homes but also serves as a hub of support for our community of pet lovers.
Some of the highlights of our new space include having doubled our footprint, upgraded our cat housing, we have separate areas for adoption counseling, and an additional 8 rooms for cats where cats can stay during the duration of our adoption events.
We want to extend our deepest gratitude to our incredible volunteers, whose commitment and hard work have turned this dream into what you see today. Your time, your energy, and your love for animals have shaped this center into a place where lives will be saved, and where bonds between humans and pets will be forged.
We also want to acknowledge our partners, donors, and supporters who have believed in our mission and contributed in various ways to make this renovation possible. Your generosity has made a lasting impact, and we are truly grateful for your support.
Let us remember that this center is not just a physical space. It represents the hope and compassion of our community to help homeless pets.
We look forward to the many success stories that will unfold within these walls.
Thank you.