Welcome back to the next installment of our monthly volunteer profiles. Check out our previous profiles to learn more about all the different kinds of people who make Angel's Wish the outstanding organization it is!
There are some people in the world who can dazzle you with their smile. Sometimes it's a family member or friend, sometimes a coworker, sometimes a complete stranger at the grocery store. They have a smile that somehow just makes you feel better about everything and, for just a second, the sun shines a bit brighter. Smiles are one of the things we've all missed while wearing masks to prevent the spread of the COVID-19 virus, and Angel's Wish has been a little darker due to the absence of one of our favorite smiles–the one that belongs to Kallie Sersch, one of our adoption room volunteers and our one-and-only donation processor. This driven volunteer has helped Angel's Wish in many ways.
Kallie grew up in Dodgeville, WI and attended the University of Wisconsin-Stout where she earned a degree in Hotel, Restaurant & Tourism Management. She currently works as an Account Project Manager at Land's End and lives in Madison with her fiancé, AJ, and cat, Pepper. Kallie and her fiancé just bought a new home in Madison, and "our cat, Pepper, has loved the upgrade," Kallie said. "She spends all day looking out all the windows and running up and down the stairs." When not busy at work or with Angel's Wish, she enjoys reading a good mystery book, traveling, a ride on the Peloton, and drinking wine with friends. She also loves to tap dance, something that not many people know about her.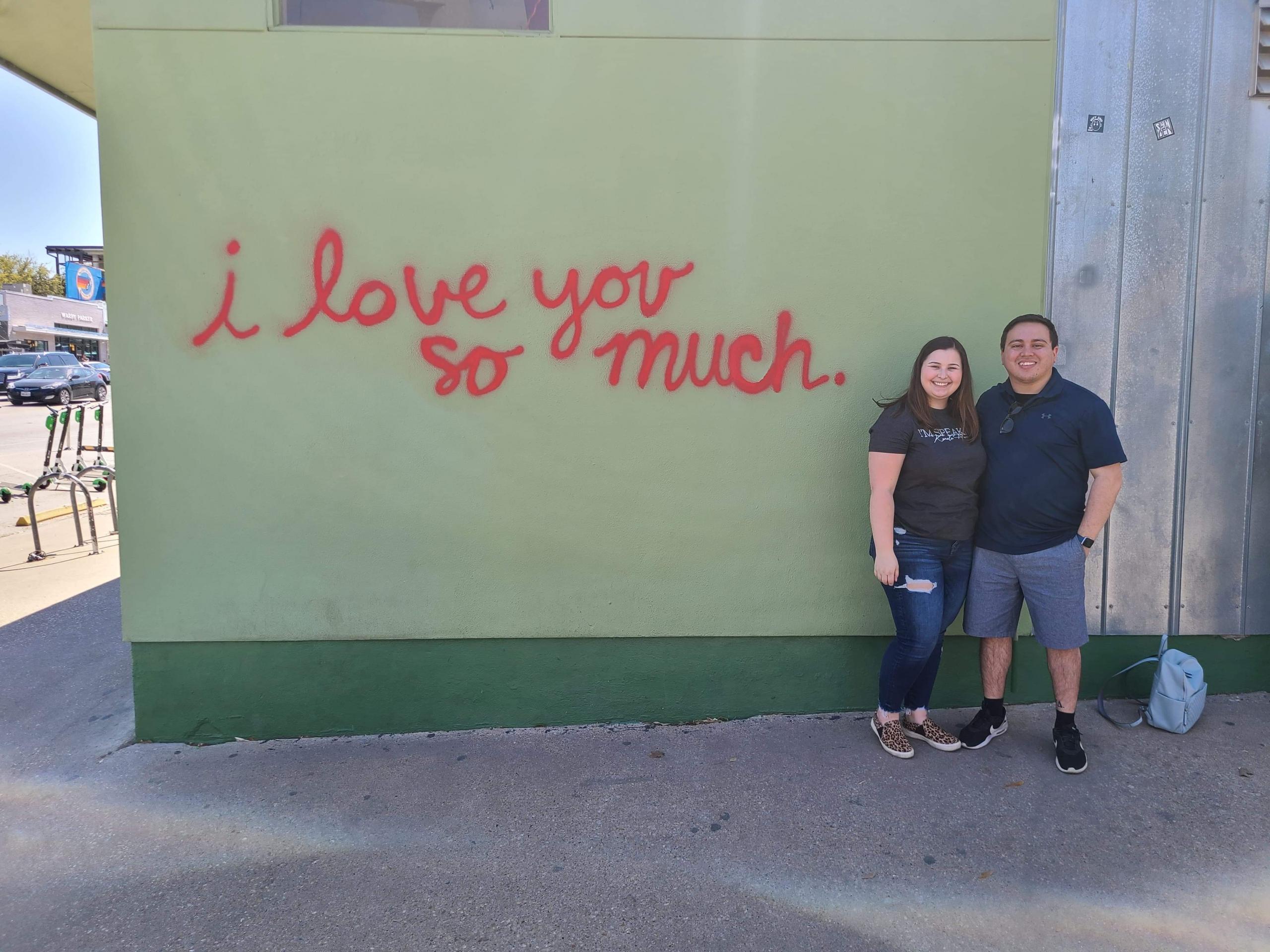 In 2019, Kallie was looking for an organization to volunteer with on the weekends. "I have always enjoyed being around animals and the opportunity at Angel's Wish was the perfect fit," Kallie explained. She started out working at the Angel's Wish Adoption Center on the weekends as an adoption room volunteer "helping families find their new purrfect family member," Kallie said with a laugh. In 2020, Kallie was a part of the initial social media team, handling the curation of, posting of, and responding to the Happy Ending updates adopters send in. (Check them out here.) In addition, Kallie also helps with the many cleaning tasks that need to happen when Angel's Wish receives a transfer of cats from one of our partner organizations.
Kallie has spent a good portion of her volunteer time with Angel's Wish working with the generous donations our supporters send in. In early 2020, Kallie was instrumental in transitioning to a new donation management software. She is currently responsible for donation processing, "which my cat Pepper likes to help with!" Donation processing includes handling all donations that come to Angel's Wish in the mail as well as other tasks related to documents and acknowledging donations. If you've received a letter in the mail, thanking you for a donation, Kallie's hard work is behind that letter.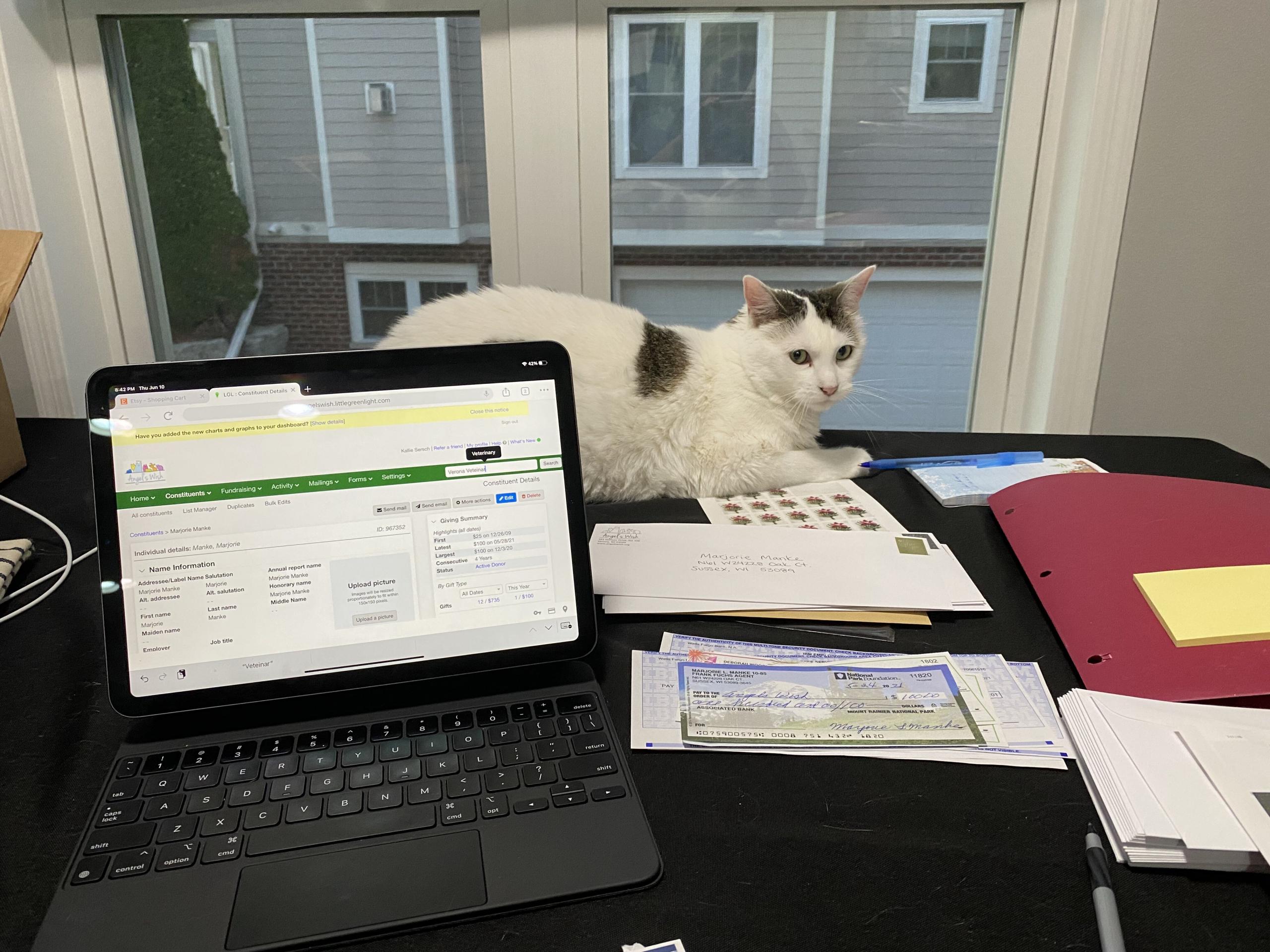 Though processing donations has more to do with computers than cats, Kallie enjoys the work: "One of my favorite things about processing donations are the sweet notes & cards from Angel's Wish alumni (some adopted 10+ years ago!) and their families. It is so heartwarming to hear the success stories and it reminds me of the great work Angel's Wish does everyday."
She adds that Angel's Wish has taught her a lot about the benefits of spaying and neutering your pet. "There has been a large decrease in the number of stray animals in Wisconsin over the past decade because of the efforts to provide resources and education on this subject," she explains.
Kallie would encourage anyone who has an interest to volunteer at Angel's Wish. "Volunteering with Angel's Wish is so flexible and the volunteers are so wonderful to work with," she said. "The number of cats who enter our care and leave with their forever families is so fulfilling." In return, she receives the warmness of giving back to the community, the good feeling of being part of something bigger than herself, and "kitty cuddles." We're sure the cats, adopters, and other volunteers who have the good fortune of meeting and working with Kallie enjoy her smile, her passion, and her sense of humor that she brings wherever she goes.