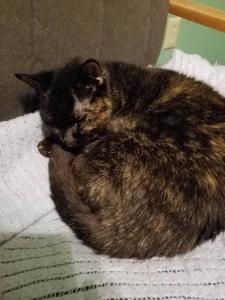 UPDATE! Lana is doing great after her surgery and we reached our fundraising goal!! Thank you!
Lana is a sweet mama kitty who is in severe pain due to dental issues. She is suffering, and only an expensive, extensive dental surgery at UW Veterinary School can save her life. We need you.  Please, read about this amazing girl!
Lana came to us from the Brodhead area. She had a single kitten named Larry. Larry was adopted and shortly after that Lana was spayed. After her spay, she developed an infection in her mouth that caused all of her teeth to come loose. Dr. Matt Watrud and Dr Stephanie Vande Bush at Stoughton Vet Services removed the infected teeth and found an antibiotic to treat the infection. Despite efforts to cure the infection in her mouth with very powerful antibiotics, the infection returns each and every time. They are effective as long as she takes them, but the infection returns when the antibiotics are withdrawn.
Diagnostics dental xrays performed by Dr. Tina Karls at West Towne Veterinary Center showed she has 13 root tips embedded in her jaw. She needs surgery that only the staff at the UW Madison Veterinary School can offer. Without this surgery, she will need to be euthanized to end her suffering.  Pain medications are only relieving some of her pain. At this point, she cannot swallow easily and cries when she eats.
The kind staff at the UW Madison Veterinary School have scheduled surgery for 1/11/17.  We need to raise the money for her surgery in the next five days.
Lana is very adoptable and forgives easily after being given medication. She is the sweetest tortoiseshell kitty her foster mom has seen in a long time. She purrs easily and everyone that meets her becomes a fan.
Lana's is a life worth saving. Every bit helps. Please help us save Lana's life.
Donate now: https://www.gofundme.com/lanas-emergency-dental-surgery