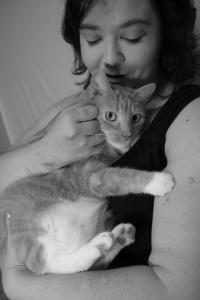 Angel's Wish is so lucky to have people like Kate Schultz volunteering for us! We benefit from her many skills, creativity, and energy. She began volunteering behind the scenes by doing donations processing. Recently she and her husband took on taking care of kitties at our satellite adoption location at Pet Supplies Plus in Fitchburg.
What is your professional background?
I have a Bachelor of Science in Education from UW-Whitewater with majors in English and theatre and certification to teach English 6-12 and theatre K-12. After graduation, I worked as a high school English teacher, play director, and assistant forensics coach at Verona Area High School. I then spent five years as a high school English teacher and play director at Fort Atkinson High School. After that, I got a job at Epic working as a software tester on the Anesthesia application. I did that for six years. Now, due to some complicated medical issues, I no longer work. In addition to taking care of my medical needs, I volunteer with Angel's Wish, Badger Prairie Needs Network, and EDS Wisconsin, Inc. I've also done community, high school, collegiate, and professional theatre work as a director, assistant director, stage manager, actor, make-up artist, costumer, fight choreographer, and more!
How long have you been volunteering for Angel's Wish?
I've been volunteering for Angel's Wish for about 11 months. My volunteer-a-versay will be on May 14, 2019–that's the day I first met with Natalie to learn how to enter donations in Network for Good.
Why did you choose Angel's Wish?
I've loved and lived with cats my whole life. My mother worked as a rural mail carrier and often brought home stray cats she found. They lived in our partially finished basement. There were times when we would have 12 or 13 cats! There have only been a few years of my life when I didn't live with at least one cat, so they're a comfort to me. When I was no longer able to work, I started looking for volunteer opportunities. Angel's Wish is local and it's a no-kill shelter, which is super important to me. I love being able to help, even in a small way, to find kitties their forever homes and help families find their perfect pet match. It's such a warm feeling that helps counteract some of the bad stuff happening in our world.
What are your volunteering duties?
I started out as the one and only donation processor–I take any donations that come in the mail or in person and enter them into our donation database. I also enter the in-kind donations–physical goods, like food and blankets, that people donate. I helped Natalie write a training manual for future donation processors (if anyone ever wants to become our second one!) Recently, I took on the job of adding the Happy Endings to the Angel's Wish blog and Facebook page. If you're ever having a bad day, go reading the Happy Endings–your day gets instantly better as you read the heartwarming stories.
I've also recently, along with my husband, taken a monthly shift taking care of the kitties we have living at Pet Supplies Plus. For one week out of every four, he and I go to PSP each day and clean out the cat condos, feed the kitties, take them out to play, socialize them, get them used to people, and help meet any potential adopters. It's a lot of fun, playing with the kitties, seeing what kind of mischief they get into, and helping to make matches between the PSP customers and the little darlings in the condos.
What pets do you have?
I have three big, beautiful boy cats–James (pictured), Simon, and Bruce.
What is most satisfying about volunteering at Angel's Wish? 
The most satisfying part is knowing I'm doing a part to get these kitties into good homes. I thought it might be difficult to be around so many cats and I would want to take them home, but it's more satisfying to see them go to other homes with people who are just beyond delighted to have them. The cats I've lived with my whole life have been sources of joy, humor, entertainment, and so much love. I enjoy taking care of the kitties who don't have a home yet, getting to know all of their different personalities, and finding them a place to belong and some humans to love. I've gathered a lot of random skills over my work experience and I like that I can put them to use to help Angel's Wish.
Is there anything else you would like to share about your experiences at Angel's Wish?
I am constantly amazed at how dedicated the volunteers are at Angel's Wish. Everyone I've met there has one goal: take care of these cats and find them homes. I haven't seen egos or personalities get in the way of the mission of the organization; everyone just wants to do what they can to help. Everyone is respectful and appreciative of the time and effort that the other volunteers provide, whether that's just a few minutes or several hours. It feels like everyone knows that it takes the whole team for the organization to function smoothly.