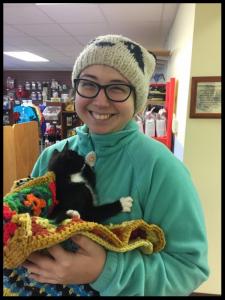 What is your professional background?
I have both an undergraduate and a graduate degree in geology with an emphasis on shale geochemistry and stable isotopes.
Why did you choose Angel's Wish?
I chose Angel's Wish because I truly believe in their mission: to find homes for kitties in need. Everyone at Angel's Wish is wonderful and dedicates so much of themselves to this cause. I am so inspired just being around the other volunteers. I have two cat babies at home, Gemini and Cleo, and it makes me feel good knowing that I can do something to help other cats find their forever homes too (even if I can't adopt them all like I wish I could).
What is most satisfying about volunteering at Angel's Wish?
I love interacting with people. It makes me smile when I can helps someone on the phone, or when I get to be the one to see how happy the new cat parents are as they're about to officially adopt their new furry friends. Plus I just think working the cash register is fun 🙂
Is there anything else you would like to share about your experiences at Angel's Wish?
Everyone should volunteer there. The volunteers are so friendly and fun (and sassy!). Plus there's a candy drawer! I thoroughly enjoyed my time volunteering at Angel's Wish and I am genuinely going to miss each and every one of the volunteers and cats while I'm cutting up rocks in Montana! Keep up the good work and expect to see more crochet cat mats coming your way soon!