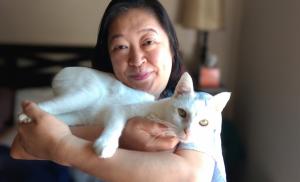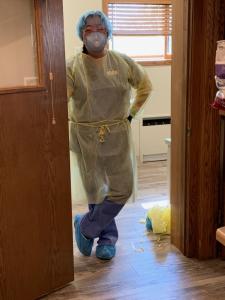 Happy National Vet Tech Week! (Don't worry, we didn't get you a present either.) Pet owners know that there are a number of people who care for their furry family members when they're sick or hurt. However, just like at a human medical clinic, there are different people who are tasked with different jobs. One of them is a Certified Veterinarian Technician, or CVT. 
Angel's Wish is fortunate enough to have a certified vet tech as a volunteer and on our Board of Directors. Holly Tang, CVT, currently works at Middleton Veterinary Hospital and offers her expertise and free time to Angel's Wish as a volunteer. Holly was kind enough to share her story and some of her wisdom with us. 
"I have always loved animals, especially cats," Holly said. "There were always cats around Grandma's house, and I never found a cat I didn't like. It was my time [as a volunteer] at Angel's Wish that really convinced me that I wanted to work with animals for my career." After a bit of searching, Holly found the veterinary technician program at Madison College. After attaining an associate's degree, a potential CVT must pass the Veterinary Technician National exam and apply for a state licensure in order to work as a CVT. (In other states, this person can be called a Registered Vet Technician [RVT] or a Licensed Veterinarian
Technician [LVT].)
We asked Holly what the differences are in the job duties between a veterinarian and a CVT. She told us, "The main job of a CVT is to assist the veterinarian. Duties include checking patients in for their appointments, providing safe handling of the animals, collecting and processing lab samples, taking and processing radiographs, and preparing patients for surgery." She said the duties can vary from clinic to clinic but "only veterinarians can diagnose conditions, prescribe medicine, and perform surgery." 
Holly's favorite part of working as a vet tech is when her patients come in purring or with wagging tails. However, COVID-19 and related precautions have made her job more complicated. "The hardest part of my job is when we get really busy and I worry I'm not providing the best care for patients," she said. Middleton Veterinary Hospital has switched to curbside service and telemedicine, which take more time and involve more phone calls back and forth with owners. Holly explained: "Communication is more difficult because we can't see clients face to face. We're busier than ever and it's a lot harder to fit patients into our schedule." Despite the challenges of a stressful, fast-paced job, Holly loves being a part of a team that helps keep animals healthy.
Outside of her job as a CVT, Holly enjoys reading, knitting, cooking, and bike riding. Her family consists of her husband, Jamieson (who also volunteers at Angel's Wish) and her mother, Mei. Feline family members include Bailey & Arthur—who were adopted from Angel's Wish—and Mimosa.
"After [Jamieson and I] adopted Bailey in 2013, we kept going back to the Angel's Wish Center for our 'kitty fix'," Holly said. "One time a volunteer asked why we didn't just volunteer there. The rest is history." 
As a volunteer, Holly has taken on a variety of duties and roles: she works twice a month as a cashier and helps with microchipping services (when the Center isn't closed due to COVID-19). One of her favorite things, however, is fostering adoptable cats as they wait for their forever homes. "The best thing is when I hear how well our fosters do in their new homes. I really enjoy hearing funny stories and seeing pictures. Certain kitties will come back for nail trims and some of them I even see at my current clinic. It gives me joy to see how they thrive." The cats' success at their new homes is in no small part to the love and care Holly & Jamieson provide as foster parents. 
In 2018, Holly joined the Angel's Wish Board of Directors. She said that, in doing so, she hopes to "share my knowledge and experience working at a veterinary clinic." Holly has been able to do just that by being part of a group that creates, reviews, and distributes educational materials for volunteers and adopters. 
Through her quiet dedication and willingness to share her expertise, Holly's contributions to Angel's Wish have benefitted so many adopters, volunteers, and, of course, cats over the years. "Angel's Wish is dear to my heart. I find the experience very rewarding." Angel's Wish always has a need for volunteers of all different kinds, even when the Center is closed. "Find what you are good at and enjoy doing," she advises. "There must be a way you can share your time and gift with us." Holly found her way, and Angel's Wish certainly appreciates that she did.